You might think that golf bags are not a necessity. But if you ask professional golfers, they will tell you otherwise. Indeed, the golf bag is a very important piece of equipment in the game of golf. This is what you will use in carrying your entire golf equipment to the golf course. By having a reliable golf bag, you will not have to worry about losing any of your precious belongings since it will be able to accommodate everything.
The bag can be used to transport your golf balls, golf clubs, and pretty much everything that you need in your game. Because of the importance of golf bags, you will find that a lot of companies would manufacture different varieties of these bags and sometimes, choosing the best among them is an absolutely difficult task.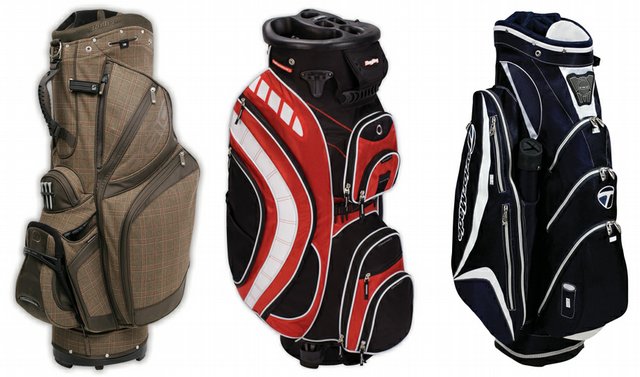 Remember that you do not really need to invest on the most expensive golf bag in the market. What is important is that the bag is highly functional and that it is equipped with all the necessary features that can help to make transporting your things easier for you. So to help you, here is a list of the top 10 golf bags of 2014.
Titleist 2014 Lightweight Cart Bag
Titleist, one of the most popular brands of golf related products and accessories, has recently released their latest version of a golf cart bag. The 2014 lightweight cart bag is so light that you will enjoy a hassle free experience when carrying the bag in the golf course. It features a top cuff made of padded mesh material and comes complete with multiple zippered pockets that are easily accessible while the bag is on the golf cart. Like most of the golf cart bags from Titleist, this bag will fit well in any type of motorized golf cart.
Titleist 2014 Ultra Lightweight Stand Bag
If you need a lightweight golf bag to carry with you in the golf course, then this ultra lightweight stand bag from Titleist is highly recommended. It allows you to enjoy a well organized and hassle free carrying experience. The bag features a padded mesh top with several zippered pockets that can be easily accessed even when the bag is on the golf cart. The bag is a stand bag, but it fits perfectly to any type of golf cart.
Ogio Grom Stand Bag 2014
The Ogio Grom Stand Bag is a 14 way golf stand bag that features a diamond performance stand top. The bag is integrated with a front handle for easy carrying of the bag and comes equipped with an oversized putter pit. It also has a zipper-less ball pocket so you can easily get a hold of your golf balls. It has a total of six pockets all in all which could accommodate all of your golf necessities.
New Ping 2014 L8 Lighweight Golf Stand Bag (Black)
The brand might not be that familiar to you, but you have to give this golf bag a try if you want a high performing and lightweight golf bag to carry in the golf course. It comes with a strap slider, which allows you to carry the bag in a backpack style. It has a reinforced bracket as well that is attached with a leg strap. All in all, this bag has 3 pockets that could accommodate your golf balls, water bottle and apparel.
Nike 2014 Air Sport Carry Golf Bag
One of the best golf bags to buy these days is the Air Sport Carry golf bag from Nike. As you know, Nike is the leader when it comes to sportswear and accessories, so with this golf bag, you can expect great performance and excellent functionality. What's really great about this bag is that it is lightweight, which is important for a carry golf bag. The bag also features an innovative revolving double strap system called the Equaflex max air curved, which is exclusive to Nike.
2014 Sun Mountain Golf Hybrid Carry / Cart Bag
Sun Mountain has created a golf bag that can serve as a carry bag and a cart bag at the same time. As such, the bag is called as a golf hybrid bag. The bag is primarily designed to be used for golf carts and comes with a high tech stand system for the driving range. It comes with several cart friendly features such as the cart strap tunnel, a feature that allows easy access to the bag while it is attached on the cart. It also has a cart friendly bottom which fits well on the cart bag wells.
Pitch and Putt 2014 Stand Golf Bag Black
If you are in need of a golf bag to carry in the driving range, then this is the perfect choice. It comes with a two compartment top, and features an ultra lightweight construction. It has a very durable carry handle and comes with one huge accessory pocket. It is also equipped with a towel ring and a glove holder.
Genuine Audi TaylorMade Pure-Lite 2014 Golf Stand Bag
This golf bag is from TaylorMade, another brand that is famous in the golf industry. With this bag, you can enjoy superior quality and great functionality. It comes with a total of seven pockets and has an integrated handle on the top. It is also equipped with an insulated pocket for storing beverages and features a comfortable well balanced shoulder strap, allowing you to carry the golf bag with ease.
New Taylor Made Golf 2014 Supreme Hybrid Stand Bag Black
This hybrid stand bag from TaylorMade is definitely worth checking out. It is a premium stand bag that also doubles as a golf cart bag. It comes equipped with all the features that you would expect from a stand bag and a cart bag. Weighing only six pounds, this golf bag is among the lightest bags that TaylorMade has ever created.
Orlimar Golf 2014 OS 2.5+ Stand Bag
Orlimar has released the latest among their golf bags and that is the Golf 2014 OS 2.5+ Stand Bag. This is the perfect golf bag for golfers who prefer to walk all over the golf course instead of riding a golf cart. It features a two compartment top and a full length divider as well as a double padded carrying strap, giving you utmost comfort when carrying the bag in the green.